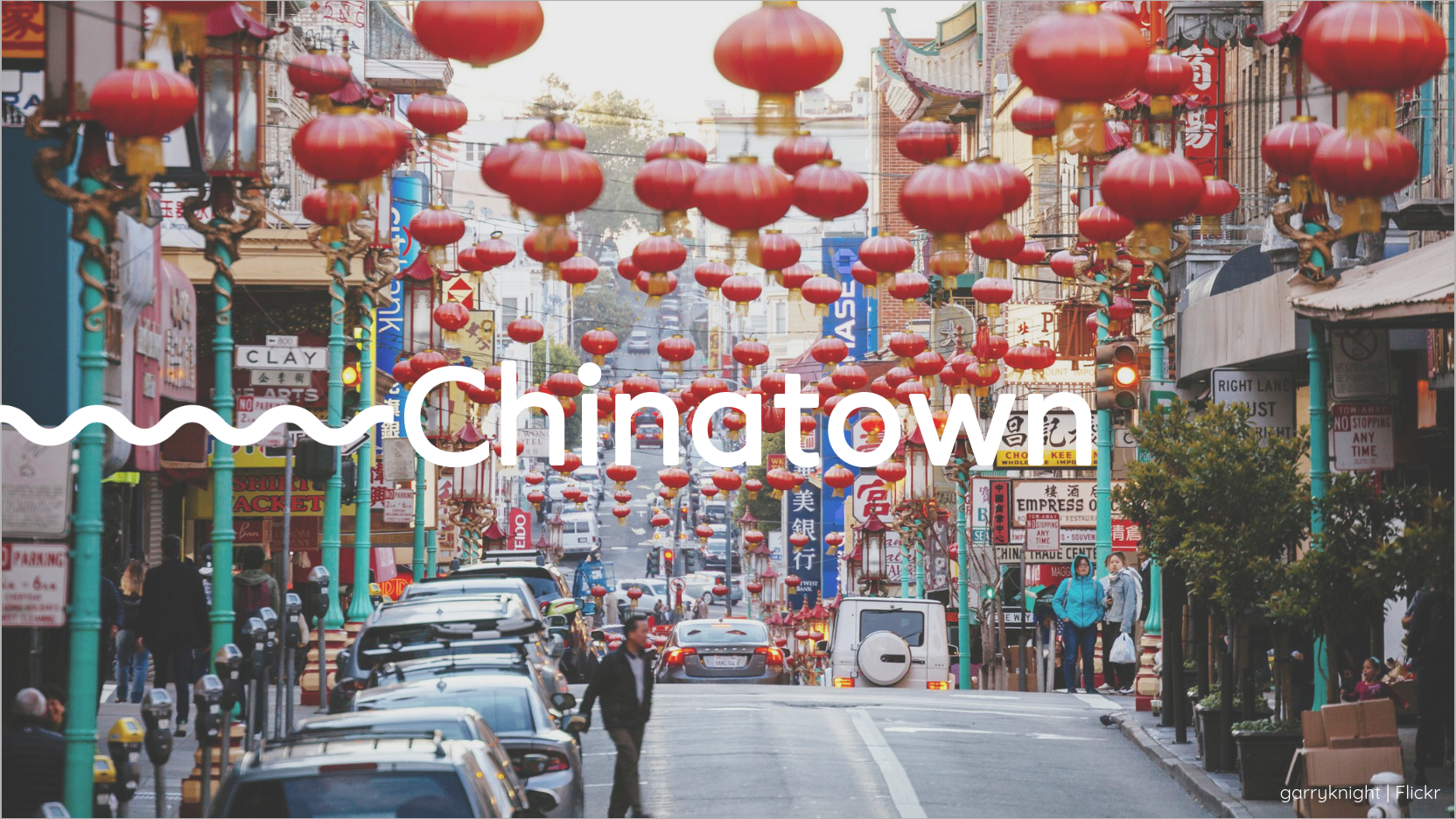 San Francisco is home to the largest Chinatown outside of Asia and spearheaded the development of Chinatowns throughout the United States. Centered on Grant Avenue and Stockton Street, it serves as a hub for Chinese Americans and their immense history, culture, and delicious food.

San Fran's Chinatown | Photo Credit: Wikipedia
Culture:
Chinatown represents the culmination of Chinese history in San Francisco starting at the Dragon Gate on Grant Avenue: one of the most photographed locations in town. If you are in the area during Chinese New Year in January or February, you can join the New Year Festival and Parade and witness the famous Golden Dragon in action. Or if you visit during mid-September, you can feast on delicious mooncake during the annual Autumn Moon Festival.

New Year Festival Parade | Photo Credit: Fun Cheap SF
Outdoors:
To a fuller picture of Chinatown, go on foot and explore the many alleyways in Chinatown. An alley you should definitely check out is Ross Alley once known for brothels and gambling. Another historical alley is Waverly Place, also known as the "Street of Painted Balconies", with colorful Instagrammable buildings including the Tin How Taoist Temple. Visiting these alleys is the best way to see the evolution of Chinatown with your own eyes.

Waverly Place | Photo Credit: Wikipedia
Food:
An iconic location for a snack would be the Golden Gate Fortune Cookie Factory in Ross Alley where you can see fresh fortune cookies being made and buy some for the road. Another quintessential food to try in Chinatown is dim sum. For some of the best dim sum in San Francisco, check out Great Eastern Restaurant on Jackson Street -- even President Obama visited. Or check out one of the newest hotspots for dining in San Francisco, China Live. China Live has everything from a tea café with a great rotating selection of Chinese teas to Eight Tables by George Chen, a master of Chinese food, offering a prix-fixe eight-course tasting menu.

Golden Gate Fortune Cookie Factory | Photo Credit: The Bold Italic
Nightlife:
If you want to unwind and relax after a long day of exploring, stop by Li Po Cocktail Lounge for its famous Chinese mai tai. Another historical bar to visit is Vesuvio Café popularized during the Beat Generation with visitors including Allen Ginsberg.

Li Po Cocktail Lounge | Photo Credit: Eater SF
Shopping:
In Chinatown, you can find an abundance of niche shops including Ming Lee Trading, Inc. where you can find all the Asian snacks you desire. You can also drop in at Chinatown Kite Shop and feast your eyes on an assortment of beautiful kites. However, if you want to explore a variety of goods from small trinkets to antique furniture, Old Shanghai and Canton Bazaar are two big emporiums worth checking out.

Canton Bazaar | Photo Credit: cityseeker
Getting there:
Union Square: 10 minutes by car
Fisherman's Wharf: 10 minutes by car
San Francisco Airport: 40 minutes by car
Golden Gate Park: 20 minutes by car
---
Now that we've got your attention, how about we get to know each other a little better? We'll start! Here's something you probably don't know about us...
SpareRoom is a proud partner of Breaking Ground – one of NYC's leading charities providing permanent housing solutions and supportive services for the homeless and other vulnerable New Yorkers. Every month, we match the amount won in our Live Rent Free competition in a donation to Breaking Ground. It's just one of the ways we can help give everyone the home they deserve.
Want to get involved? As long as you're entering Live Rent Free every month, you're already doing your part. For more information on the giveaway and how to enter, visit Live Rent Free.