Union Square, once known as a prime rally location during the Civil War, has evolved into a cosmopolitan hotspot in downtown San Francisco. Outfitted with one of the largest collections of high-end boutiques, art galleries, and off-Broadway shows, it has turned into a must-visit destination for anyone in the area.

Union Square | Photo Credit: minitime
Culture:
Union Square is the theatre central in San Francisco: the five top theatres are right in the area. A great theatre to check out would be the Orpheum Theatre. It is a San Francisco Historical Landmark and hosts six to seven of the top Broadway shows which currently include Hamilton, Anastasia, and The Book of Morman. If you are feeling spontaneous and want to see a Broadway show the same day, make sure to stop by the TIX Booth to get up to 50% off on same-day show tickets. Union Square also has a host of art galleries including the San Francisco Art Exchange which used to be a hub for exchanging works by world-renowned artists like Picasso and Wharol and now showcases works from contemporary visual artists.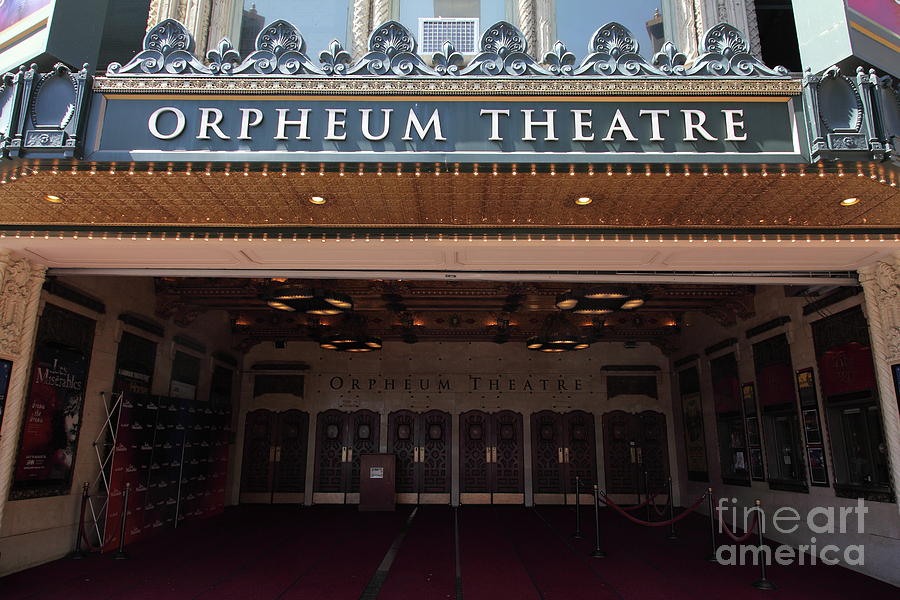 Orpheum Theatre | Photo Credit: Fine Art America
Outdoors:
While Union Square is primarily a shopping plaza, it is part of the Barbary Coast Trail one of the several walking tours hosted by the San Francisco Historical Society. This makes Union Square a great midpoint between many other great destinations in the area including the Financial District, Chinatown, and the city's historic French Quarter centered at Belden Alley. However, in the Union Square plaza itself, there is lovely art to snap a picture in front of. In the center of Union Square is a statue of Nike, the ancient Greek Goddess of Victory and located in the four corners of the plaza, there are painted heart sculptures part of the Hearts in San Francisco Project to raise money for the San Francisco General Hospital Foundation.

Heart Sculpture & Nike Statue | Photo Credit: Wikipedia
Food:
Union Square offers a bit of everything when it comes to food from Italian pasta to Swedish pancakes. Sears Fine Food is known for its house specialty Swedish pancakes served every morning to mid-afternoon. It is a historic diner in business for over 80 years that is flooded with tourists and locals alike. For some classic Neopolitan-style pizzas with a side of fine wine, check out Del Popolo. After years in a rustic food truck, Del Popolo has found a permanent home to serve up delicious Italian food. Lastly, you can't forget about dessert: stop by Mr. Holmes Bakehouse for some cruffins and their iconic "I Got Baked in San Francisco" neon sign.

Mr. Holmes Bakehouse | Photo Credit: Victoria via Sf Girl by Bay
Nightlife:
Whether you want to drop by a casual sports bar or a Prohibition-era style speakeasy, Union Square will satisfy all your nightlife needs. Located in the Mystic Hotel is the Mystic Room and Tavern. With its old-time speakeasy style decor, it offers a live jazz band in the evenings in the bar, but you can also order a bit to eat if you get hungry. Now for complete opposite vibe is the Golden Gate Tap Room. It sports massive TV screens for any game night and a list of over 100 different beers to enjoy. Even if you are not a massive fan of sports, the Tap Room is covered in pool tables, shuffleboards, SkeeBall machines and other fun video games to enjoy.

Golden Gate Tap Room | Photo Credit: eater sf
Shopping:
Union Square is the shopping central of San Francisco. The Westfield San Francisco Centre is located in Union Square and it is a 9-story building shopping destination. In addition, there are several department stores including Neiman Marcus, Saks Fifth Avenue, and Bloomingdale's. A mix of luxury designers and other retailers dot the perimeters of the plaza ranging from Louis Vuitton and Gucci to Apple and Nike. Regardless of what you are looking for, you can find it at Union Square.

Saks Fifth Avenue at Union Square | Photo Credit: The Francisca Club
Getting there:
Chinatown: 10 minutes by car
Fisherman's Wharf: 15 minutes by car
Golden Gate Bridge Park: 20 minutes by car
Financial District: 10 minutes by car
San Francisco International Airport: 40 minutes by car
---
Now that we've got your attention, how about we get to know each other a little better? We'll start! Here's something you probably don't know about us...
SpareRoom is a proud partner of Breaking Ground – one of NYC's leading charities providing permanent housing solutions and supportive services for the homeless and other vulnerable New Yorkers. Every month, we match the amount won in our Live Rent Free competition in a donation to Breaking Ground. It's just one of the ways we can help give everyone the home they deserve.
Want to get involved? As long as you're entering Live Rent Free every month, you're already doing your part. For more information on the giveaway and how to enter, visit Live Rent Free.