Area Guide
Lower East Side Area Guide
Reading time: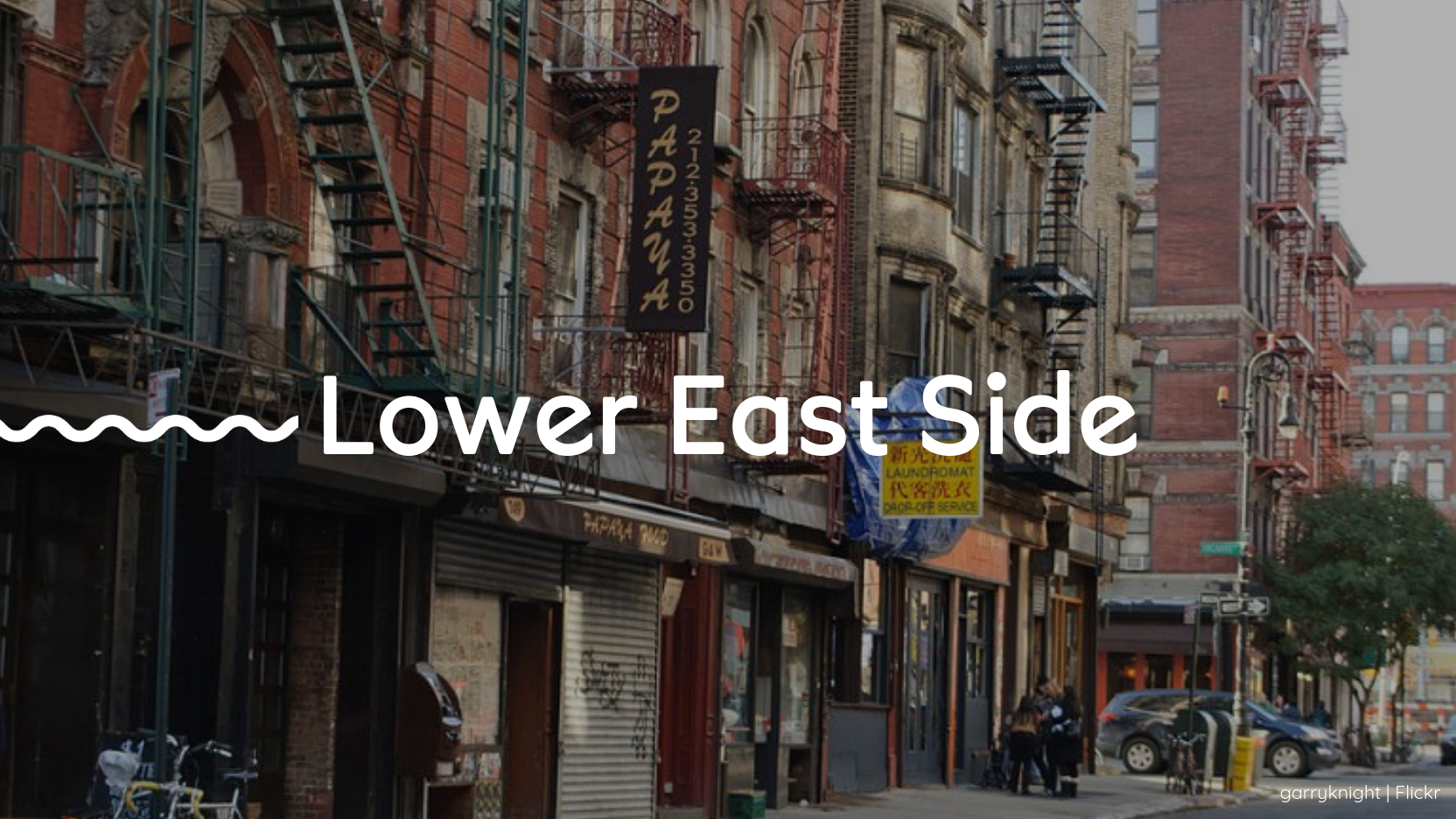 The Lower East Side is one of the hottest neighborhoods in Manhattan. From late-night comedy to pastrami-on-rye, or watering holes to tattoo parlors - whatever it is you're looking for, the LES has you covered. However, the narrow streets that are now lined with trendy bars, clubs, restaurants, galleries, and music venues didn't always draw a crowd. The LES has quite the gritty past, and some of the immigrant, punk and artistic elements still remain today.
Getting there
Bordering the East Village, Nolita, Little Italy, and Chinatown, the LES can be reached from the JZ and BDFM trains. If you feel like more of a stroll, take the 6 off Spring Street or Bleeker Street or the RW off Prince Street.
Culture
The Tenement Museum keeps the area's history alive in a series of restored apartments visited via themed guided tours, but most of the area's cultural draws are contemporary, including the numerous art galleries in the LES. Thanks to Chelsea's high rents, many galleries have moved to the LES and established collaborative spaces where up-and-coming artists can display their work. A few popular galleries include CANADA, Salon 94 Bowery, and Con Artist Collective.
If movies are your preferred art, then the LES has that too. Want to rewatch your favorite movie on the big screen? Then visit the Metrograph, an Indie theater offering an intimate movie-going experience at the corner of Ludlow and Canal. Inside is a restaurant, bookstore, lounge, and two theaters (one of which includes a balcony) with the ability to show both digital and 35mm films. Check out their calendar to see upcoming events and movies, ranging from old Hollywood classics to modern indie documentaries.
Outdoors
As the largest stretch of open space in the neighborhood, Sara D. Roosevelt Park is usually packed with people hanging out or passing through - so it's a great spot for people watching. For sports fans, there are areas to play soccer, basketball, handball and volleyball.
Further East is John V. Lindsay East River Park. The larger space allows for a wider range of sports - including a football field, tennis court, baseball field, and running track. In the summer, you can throw a picnic in the barbecue area or attend a show at the amphitheater. Or just head to the park and enjoy the beautiful view of the Williamsburg, Manhattan, and Brooklyn bridges.
Food
For 130 years, Katz's Delicatessen has been an iconic cultural figure in the city. Not only is it where Billy Crystal said "I'll have what she's having" in How Harry Met Sally, this Jewish deli was also a place for immigrant families to come together in the early part of the twentieth century. What makes Katz's unique is its hand-sliced, slowly cooked meats. You can't visit without trying their legendary pastrami, but the classic hot dogs are delicious too.
Less than a block away from the Tenement Museum you'll find the all-day cafe and bar, Dudleys'. This Australian-American restaurant offers seasonal dishes and a lively atmosphere. A few favorites here are the Bronte Burger and for brunch the Big Breakie - aka eggs, bacon, mushrooms, baked beans, roasted tomatoes, hashbrowns and toast.
Not in the mood for American food? Next to Dudley's is An Choi, a Vietnamese eatery where you can enjoy delicious pho and fresh bánh mì in the coziest interior. We recommend "The French Dip" bánh mì where you get the flavors of Pho Bo, plus a side of broth for dipping.
Other notable mentions include: Yummm, Excuse My French, Blue Ribbon Sushi Izakaya, and Sticky Rice.
Nightlife
Kind Regards - this two floor cocktail bar and lounge features a variety of talented DJs every night. Try one of their elegant cocktails or a classy meal for a chilled night out with friends.
Not only does the Public Hotel offer a food market, restaurant, and a theater in one place, but there are also multiple bars in the venue. Relax in Diego – with a sophisticated decor that resembles a London's gentleman's club, sip on a cocktail by the fireplace in the winter, or head up to The Roof in the summer for a party. With a 360 view of the city, the lively bar is filled with communal tables and lounge areas, making it the perfect spot for a sunset drink after work.
Other notable mentions include: Mr. Purple, Max Fish, Black Cresent, and Rockwood Music Hall.
Shopping
Originally an online store, Tictail Market's physical location is home to the emerging talent in fashion, art and home decor. With a rotating selection, discover creations by new designers and independent brands on the corner of Broome and Orchard.
In 1940, street vendors were sent to one place to reduce street congestion - Essex Street Market. As diverse as the neighborhood it lives in, this market has something for everyone - authentic dishes, gourmet cheese, craft beer, fresh groceries, and much more. The vendors here continue the street market tradition by providing personalized service to customers when browsing through their fresh products.
Think you could fit in in one of the hippest and most historical neighborhoods in NYC? Then come along to our SpeedRoommating events in Manhattan to find your next apartment.
If you're a Lower East Sider let us know some of your favorite things to do in the area!
---
Now we've got your attention, how about we get to know each other a little better? We'll start, with something you probably don't know about us...
SpareRoom are proud partners with Breaking Ground – one of NYC's leading homeless charities, who provide permanent supportive housing and outreach services for those on the streets that need it most. Every month, we match the amount won in our Live Rent Free competition and donate the same to Breaking Ground. It's just one of the ways we can help give everyone the home they deserve.
Want to get involved? You already are, as long as you're entering Live Rent Free every month. Find out more here >>> **Live Rent Free**