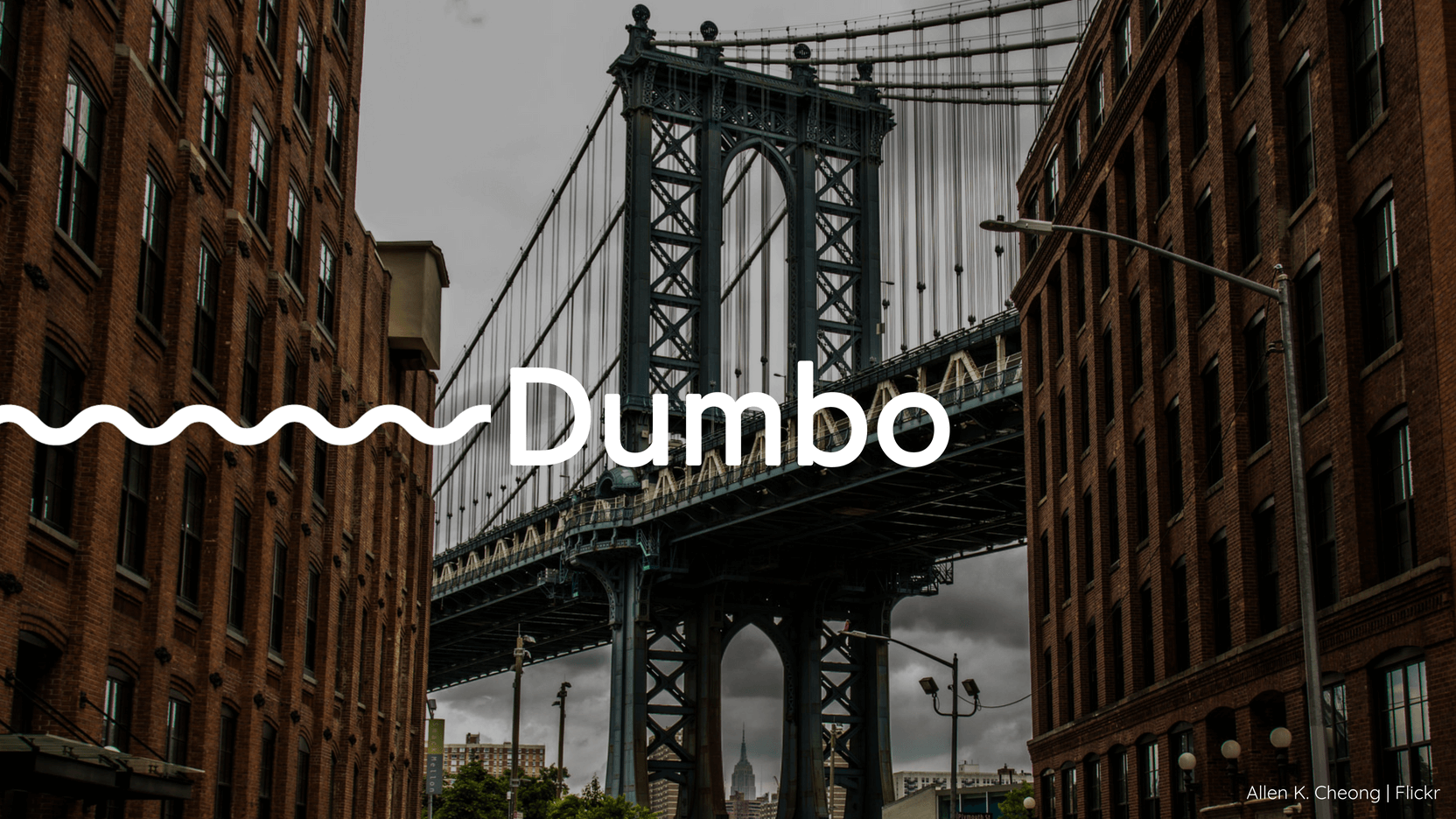 Dumbo, what was once a busy industrial area, is now considered one of the most coveted neighborhoods in NYC. Due to redevelopment over the years, DUMBO has transformed into an upscale residential area with an array of people flocking to the site to make it their own. The neighborhood has a strong personality defined by a rich history, great restaurants, enticing shops and its abundance of outdoor activities. Situated right at the waterfront of the East River, it is the perfect city spot for those sunny summer hangouts.
Getting There
You can get to DUMBO by taking the F train to York Street, the A train to High Street Brooklyn Bridge, or the 2/3 trains to Clark Street. If you're travelling from the city, we highly recommend you ditch the subway and take a stroll across the Brooklyn Bridge.
Culture
We mentioned before that Dumbo has a rich history and thanks to the Brooklyn Historical Society Dumbo, you can experience that history first hand. The Waterfront exhibit is a tale telling fair of Dumbo through the years, which weaves seamlessly among other period exhibitions and public events that are on display. Conveniently, the Historical Society is harbored within Empire Stores, a space that also gives great insight into the Dumbo of old. A warehouse that once housed coffee, sugar, and all kinds of trade commodities in the 19th century, is now a haven that has been converted into hip food and tech spots. Despite its repurposing, it still retains its historic charm.
Outdoors
DUMBO has a lot to offer when it comes to the outdoors. From picnics to movies in the park, walking along the waterfront or riding Jane's Carousel.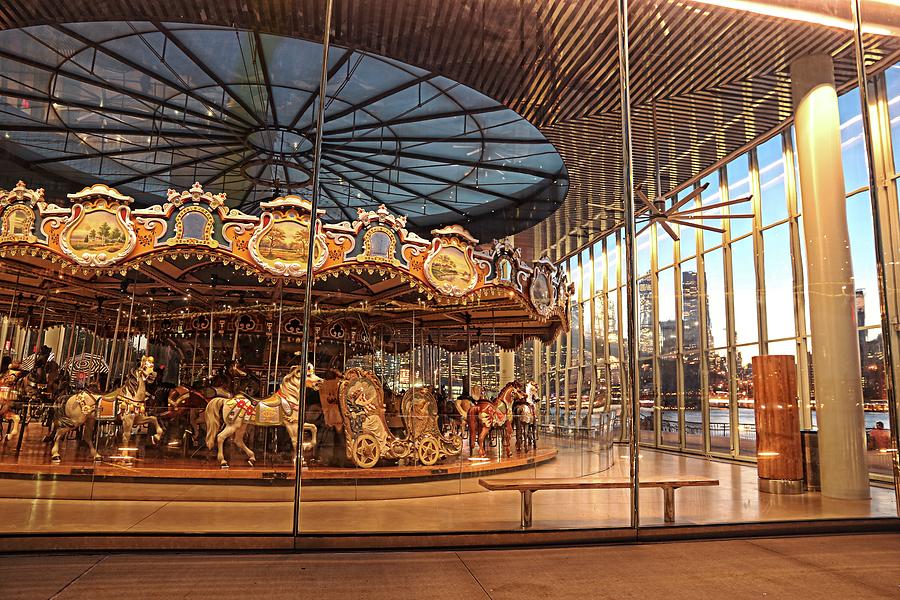 Brooklyn Bridge Park has got a series of events happening throughout the year, particularly during the summer months so keep an eye out on that. Brooklyn Bridge is also a must (we really love the bridge okay), where you can catch incredible views of Lower Manhattan, the East River and the bustling Brooklyn waterfront.
Food
Grimaldi's Pizza and Juliana's Pizza are perfect for a takeout pizza-picnic or a sit down meal. Originally opened by the same expert pizzaiolo, Patsy Grimaldi, but now neighborhood rivals, both of these spots are local go-tos for coal-fired brick oven pizza. You are sure to encounter a line that extends around the corner, so make sure to come early for this delicious treat.
What goes great with pizza? Ice cream! Situated in what used to be a fireboat house in 1922, Brooklyn Ice Cream Factory is a one-of-a-kind establishment. Their freshly made small-batch ice cream is the perfect snack to enjoy while taking in the incredible overhead bridge views. Some of our favorite flavors here at SpareRoom HQ are Vanilla Chocolate Chunk and Peaches & Cream. If neither of these are your jam, explore one of their many other unique flavors.
If you'd like to get a fancy brunch/dinner whilst enjoying a drink over the water, The River Cafe is your go-to. With spectacular views of the NYC skyline, The River Cafe is many New Yorkers' favorite fine dining experience with service that does not miss a beat. Their rare Wagyu Steak Tartare and Sunday brunch-special Lobster are some of the finest fare on offer in the city. If possible, time your appearance at The River Cafe for sunset to indulge in not only the amazing food but also the stunning views, which are complemented by the magical fairy lights that surround the space.
Other notable mentions include: Luke's Lobster, AlMar, & Sugarcane Raw Bar Grill.
Nightlife
Situated on the roof of 1 Hotel Brooklyn Bridge, this handcrafted cocktail bar has all the cool vibes rooftop bar lovers will enjoy. The only thing better than the craft cocktails and light bites are the unparalleled views on this beautiful open aired space.
Superfine is a killer space, situated in a reclaimed warehouse - very Brooklyn right? This is the perfect bar for those who like a little interaction over their tequila. Enjoy live band performances, drinks, and a game of pool after work in this organic eatery.
Other notable mentions include: The Lighthouse, Rooftop Reds, and DUMBO House (newly opened by the elite members club Soho House).
Shopping
Brooklyn is an awesome place when it comes to picking up vintage items. Check out Dumbo Flea Market on a Sunday for some fun finds like cool accessories, decor, and other kitschy tchotchkes. The whole market has an artsy feel to it and there are rows of artisan food trucks and stands for treats to snack on as you browse.
The Shops at 145 Front St is a micro mall filled with unique items that have a Brooklyn charm to them. Discover everything from interior decor to chocolate or even locally produced skincare products.
For the sporting enthusiasts and street wear fans, Aegir Boardworks is definitely worth a visit, particularly those that have an affinity with sports involving boards. Whether it's a surfboard, snowboard, or skateboard, Aegir Boardworks has got you covered.

Did you just move into a new apartment thanks to SpareRoom? Then West Elm is the go-to so you can style your new home in lavish and modern furnishings and decor. It's a bonus that their building (Empire Stores) is super cool and inviting, located right on the waterfront.
Think you could fit in in one of the coolest neighborhoods in NYC? Then come along to our SpeedRoommating events in Manhattan or Brooklyn to find your new historic home!
If you're a Dumbo-er and proud, let us know some of your favorite things to do in the area!
---
Now we've got your attention, how about we get to know each other a little better? We'll start, with something you probably don't know about us...
SpareRoom are proud partners with Breaking Ground – one of NYC's leading homeless charities, who provide permanent supportive housing and outreach services for those on the streets that need it most. Every month, we match the amount won in our Live Rent Free competition and donate the same to Breaking Ground. It's just one of the ways we can help give everyone the home they deserve.
Want to get involved? You already are, as long as you're entering Live Rent Free every month. Find out more here >>> **Live Rent Free**