Area Guide
Williamsburg Guide | SpareRoom
Reading time: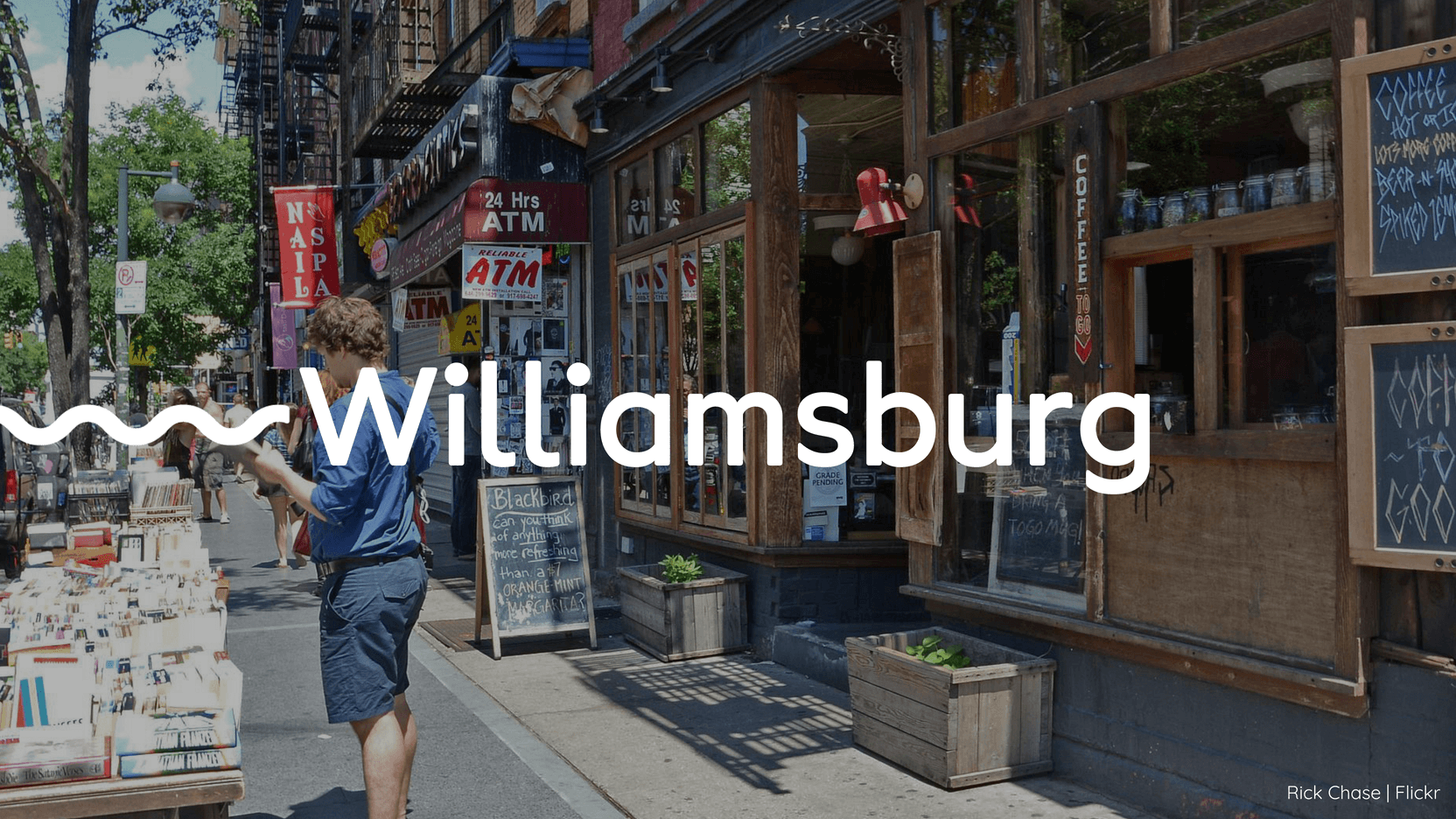 Williamsburg - the epicenter of Brooklyn, and for good reason. It's no secret that we're huge fans of Williamsburg and what it has to offer. The quaint streets are lined with inventive restaurants, bars, and eclectic shops. The cherry on top being the famous flea markets and food bazaars that are omnipresent during the warmer months, drawing the masses toward the waterfront for some savoury goods and sweet scenes. With so much to offer, we'll do our best to give you the low-down on Williamsburg but be warned, we're only scratching the surface.
Getting there
Williamsburg can easily be accessed via the JMZ or L trains. Catch a Brooklyn bound one if you're coming from the city or a Manhattan bound one if you're starting your journey further in the borough. The G train also provides service to Williamsburg which can be accessed via the ACE, DFM, NR & 7 trains at various points throughout Queens and Brooklyn.
If you want to opt for an alternative means of transport, we recommend walking the Williamsburg Bridge, which begins in the Lower East Side. Or catch some waves on the East River Ferry which operates a service that connects North and South Williamsburg with downtown and Midtown Manhattan, Greenpoint and Dumbo in Brooklyn, and Long Island City in Queens.
Outdoors
Answer the call to the outdoors by visiting McCarren Park. Whether you're looking for an ideal picnic spot, a place to chill and read a book, or get active, McCarren Park will satisfy your needs. Being the largest park in Williamsburg, its boasts a running track, some baseball fields, dog parks and even swimming pools when it comes to the warmer season. Best part - it's free!
Food
Smorgasburg - a true mecca for those in pursuit of the perfect food and the perfect insta. Located at the East River State Park, Smorgasburg offers stunning views of Manhattan that pairs ever so well with the foodie fare. If you only take one with away from this guide, let it be this - come hungry. Smorgasburg is the largest weekly open-air food market in the US, attracting over 20,000 visitors per week, with a crazy number of food vendors for you to slalom through, this is a great way to spend a Saturday.
And if you're looking for somewhere to spend your Sunday, the aptly named Sunday In Brooklyn is sure to satisfy your needs. Whether you nab a table at the rooftop garden, the lively bar room, the sidewalk café, or the open-air kitchen, you'll be hard pressed to find a more Insta-friendly eatery in Williamsburg. It doesn't sacrifice style over substance either, with delicious dishes to go with your A+ Insta. Don't blame us if you end up spending your entire day here.
Lilia - the only way to do it wrong is by not doing it enough. Lilia has quickly become one of the best restaurants in New York. Whenever the SpareRoom team pay a visit here, we find the excellency to be a consistent factor. The service is friendly, the bar is chill and the food is out of this world. Bring your parents, bring a date, bring yourself - just go there all day, every day.
Some things will always be cool. The Rolling Stones. White t-shirts and leather jackets. Ice. Marlow & Sons is one of these things. It's timeless, which is all the more impressive considering it doesn't even try. Marlow & Sons is consistent, but never boring. Despite being one of the first great Williamsburg restaurants to pop up, things remain fresh with a menu that is ever changing. You could eat three meals a day here for a week and never get bored or served up the same dish. When you throw the great service into the mix it's comparable to eating at a friends place, relaxed, comfortable and welcoming. White t-shirts and leather jackets are optional.
Other notable mentions include: Delaware and Hudson, St Anselm, Kings County Imperial, Okonomi, Lighthouse & Fette Sau.
Nightlife
In the mood for a little southern comfort? You don't have to fly to Nashville for that, just check out Skinny Dennis. You're guaranteed an authentic honky-tonk experience with live music, a happy 'hour' from noon to 7pm every day, and 18 beers on draft. Try not to get carried away by the bluegrass beats and order yourself a Willie's Frozen Coffee - a blend of bourbon, coffee liqueur and brandy whipped up with milk, sugar and vanilla. With Willie's Frozen Coffee in hand, perch yourself on the cushioned church pew and praise God for this fine establishment.
From country to city vibes, there's a stark contrast between Skinny Dennis and Westlight. Located in The William Vale Hotel, Westlight can be found on the 22nd-floor, a rooftop bar with sweeping views of the Manhattan skyline. The drinks, although they are a little on the expensive side, definitely make the view that bit sweeter. Reservations are strongly recommended.
Sticking with the outdoorsy theme of Westlight (Williamsburg kicks ass on the rooftop bar count) - Berry Park is a solid choice, a bi-level behemoth beer hall that lies adjacent to McCarren Park. Fifteen taps are dedicated to imported beers if you're looking to get a little cultured, and once the beer hits you can make the few steps to McCarren Park to walk off the buzz.
Another beer hall we love is Radegest Hall & Biergarten. A giant space dedicated to steins, bratwurst, and all things Bavarian. The space makes it ideal for group gatherings and the area itself is very conducive for day-drinking. As it's key not to drink on an empty stomach, take advantage of the in-house grub where the bratwurst, kielbasa and schnitzel are all much better than they need to be. Prost!
If you're looking to step things up and get a little wild then Output is definitely the move. This multi-room dance club is one of the most vibbin' places in New York so chalk it to the top of your list. The cover can be steep at times but the experience is worth it. Everyone tends to be on the same level which makes for a great atmosphere. Make sure to check out all levels of the club with each one having its own signature ambience. If you're there for one of the daytime rooftop parties in the summer then you're in for a treat when the sun comes down. The trendy garden is #goals with ridiculous views all round.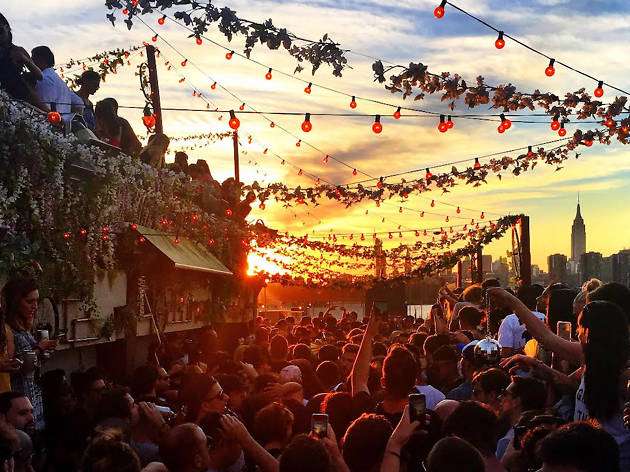 Other notable mentions include: Union Pool, Brooklyn Bowl, Rocka Rolla, Donna, Baby's All Right, Spuyten Duyvil, & Loosie Rouge.
Shopping
There are so many gems to be discovered in Williamsburg, and walking around is a great way to do so but if you're looking for some guidance then here are some of our favorites in the area. By no means is this prescriptive considering how riddled Williamsburg is with great finds but it's a start right?
Artists & Fleas - a multi-merchant marketplace that's open all year long, which has over 100 vendors every weekend. Artists & Fleas believe that marketplaces are the heartbeat of every city and they're dedicated to curating the best selection of merchants around to best represent the neighborhoods identity. Busy buyers can find unique designs, vintage collectibles and contemporary pieces all in one convenient location.
If vintage is your jam then 10 Ft. Single by Stella Dallas is your homie. This vintage emporium houses anything and everything; pick up some old school graphics, nab a pair of Chucks in a variety of colors, or find yourself a pair of authentic denim shorts. They even have sick retro bedsheets adorned with Star Wars and Peanuts characters, how cool?!
Think you could fit in in one of the coolest neighborhoods in NYC? Then come along to our SpeedRoommating events in Brooklyn to find your new happening haunt!
If you're a Williamsburger and proud, let us know some of your favorite things to do in the area!
---
Now we've got your attention, how about we get to know each other a little better? We'll start, with something you probably don't know about us...
SpareRoom are proud partners with Breaking Ground – one of NYC's leading homeless charities, who provide permanent supportive housing and outreach services for those on the streets that need it most. Every month, we match the amount won in our Live Rent Free competition and donate the same to Breaking Ground. It's just one of the ways we can help give everyone the home they deserve.
Want to get involved? You already are, as long as you're entering Live Rent Free every month. Find out more here >>> Live Rent Free