Area Guide
Midtown East Guide | SpareRoom
Reading time: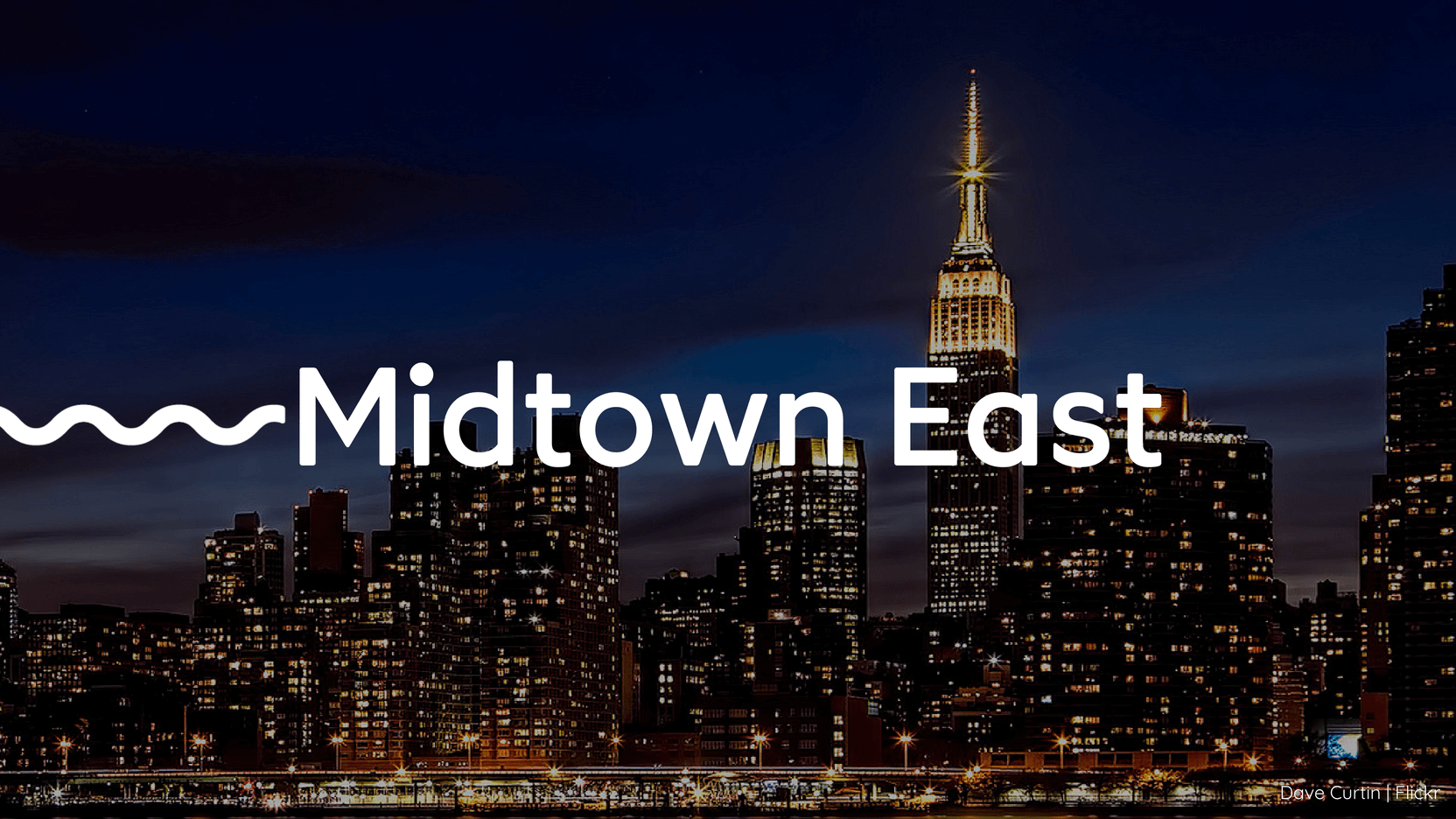 Midtown East is often the image your mind conjures up when you think of New York due to its portrayal as the epitome of NYC in countless TV shows, movies, postcards and so on. Home to many iconic sites, Midtown East features a world-class cultural scene, housing the Chrysler Building, Rockefeller Center, and United Nations Headquarters. Not only is it home to these timeless structures, but it also boasts a multitude of options when it comes to shopping, eating, and drinking - a well-rounded neighborhood.
Getting there
You can ride the E & M trains to 5th Ave/53rd St or Lexington Ave/53rd St, or the 4 & 6 to 51 St, or the 4, 5, 6, 7 trains to Grand Central - 42nd St, to find yourself in Midtown East. If you do find yourself jumping off the train at Grand Central then brace yourself for an architectural masterpiece.
Culture
Grand Central Station - not only is it the nexus of the neighborhood, it is one of the most historic landmarks of public transportation in the world, and for good reason. Stand in awe as you gaze at its magnificent architecture. In addition to its transportation role, it is also home to the foodie-friendly Grand Central Market, and an array of other eateries, shops and services.
A legendary house of worship, St. Patrick's Cathedral counts presidents, movie stars and business moguls among past and present attendees. With churchgoers such as these, it is no surprise St. Patrick's Cathedral holds the title of New York City's most distinguished sanctuary. It is remarkable as both a feat of craftsmanship and a source of spiritual inspiration.
Outdoors
Greenacre Park opened in 1971 as a 'vest pocket park', offering locals an intimate park experience in an area so densely populated with buildings that soar toward the sky. What it lacks in size in makes up for in beauty and detail. This is highlighted by the fact the park has received several awards for its exceptional concept and design. A visit is a must to truly grasp the delicacy of this adorable haven.
Food
Are you indecisive when it comes to food? Skip the pain and anxiety and by checking out Le Relais de Venise. Le Relais de Venise removes the sheer variety of food that is on offer when it comes to the New York dining scene, and replaces it with its somehow comforting menu of Steak Frites & Salad or Steak Frites & Salad. This theme is tried and tested, with clientele in cities such as London, Barcelona, and now New York.
By contrast, The Grill is everything that New York City dining is about and then some. An over-the-top extravaganza, The Grill is worth a visit, even if it is just to scoff at the 1%. It's persona is perfectly portrayed by the gold and brass coated walls and ceilings that are amply served by its tuxedo-clad waitstaff. The pinnacle of fine dining here is quite clearly the Spit-Roasted Prime Rib, delivered by trolley service to white tablecloth covered tables just like they do in the movies!
Bars
Ophelia on the 26th floor of Beekman Tower is where the magic happens. Upon arrival, you're welcomed to a decadent barroom with cathedral windows and showcases filled with an array of oddities. However, the main draw of Ophelia is its terraces that snake around the perimeter that grant you 360 degree views of the city, the East River, and beyond. The longer you sit perched on the plush velvet couch with a drink in hand, the harder it is to drag yourself away from the spectacular views.
A new take on a classic New York saloon, everything at the Hudson Malone is exemplary and I guess that boils down to a scrawl on a chalkboard that reads 'Quinn's Laws' (Quinn being the proprietor) - sacrosanct rules that make life better for all. The service is some of the finest you'll find in New York, with every bartender obviously adhering to Quinn's Laws, one in particular - 'Mediocrity sucks'. This atmosphere dictates the level of satisfaction you'll experience whether you're challenging the ever eager staff with an imposing cocktail or simply ordering a pint of plain. After all mediocrity sucks right?
Shopping
Considering the western border of Midtown East is home to 5th Avenue, a street known around the world for its shopping, it would be rude to focus on only one or two stores. However, we can highlight the shopping icons that lie here such as the powerhouses that are Saks Fifth Avenue and Tiffany & Co., and high-end flagships such as Gucci and Versace. This is the place to be if you're ready to quite literally shop 'til you drop.
Think you could fit in in one of the most central neighborhoods in NYC? Then come along to our SpeedRoommating events in Manhattan to find your new happening haunt!
If you're a Midtown Easter and proud, let us know some of your favorite things to do in the area!
---
Now we've got your attention, how about we get to know each other a little better? We'll start, with something you probably don't know about us...
SpareRoom are proud partners with Breaking Ground – one of NYC's leading homeless charities, who provide permanent supportive housing and outreach services for those on the streets that need it most. Every month, we match the amount won in our Live Rent Free competition and donate the same to Breaking Ground. It's just one of the ways we can help give everyone the home they deserve.
Want to get involved? You already are, as long as you're entering Live Rent Free every month. Find out more here >>> Live Rent Free