Area Guide
Union Square Guide | SpareRoom
Reading time: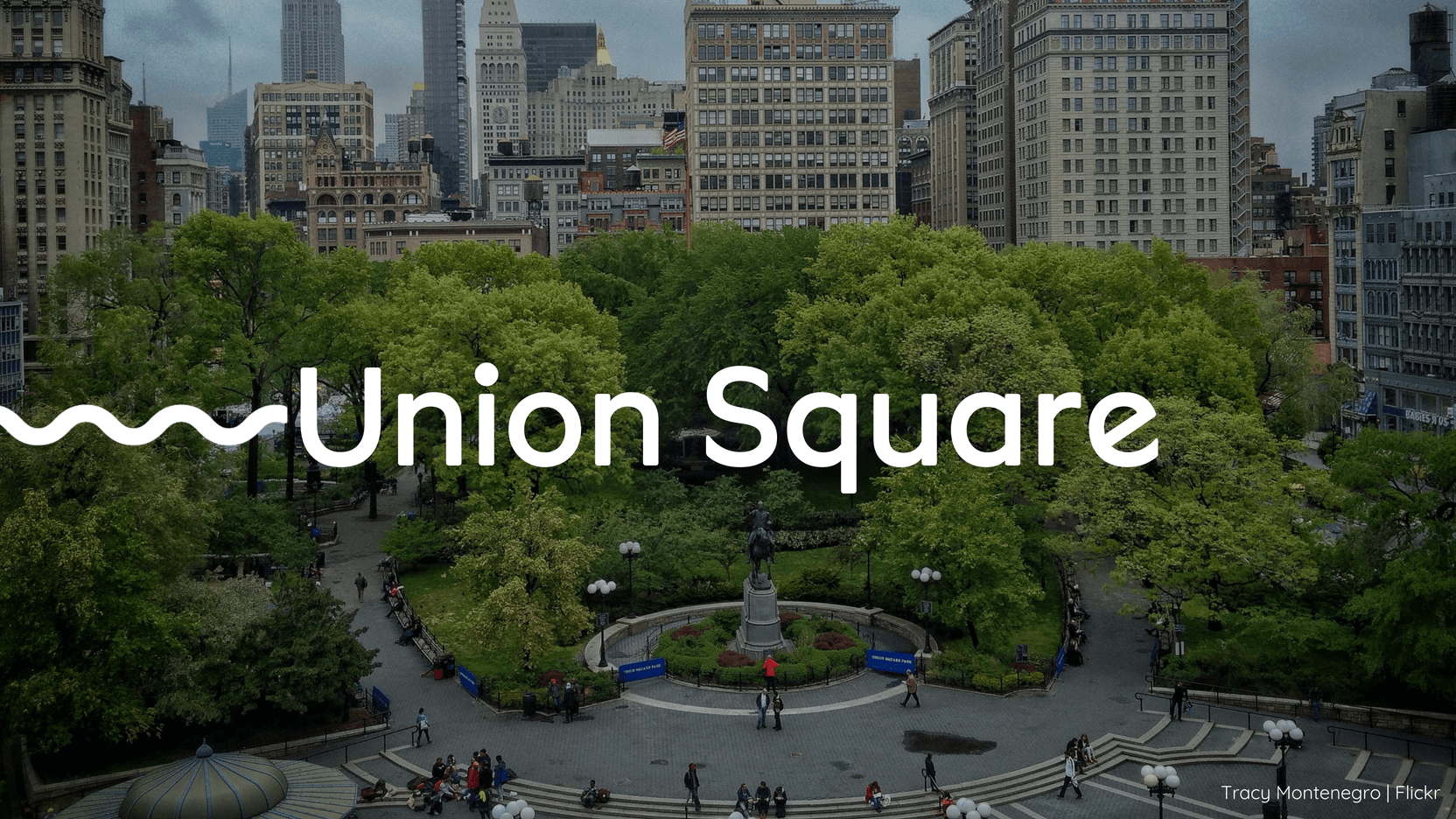 Union Square is a fine example of New York City's unparalleled diversity, which brings people from all walks of life together. Essentially, Union Square can be likened to a modern day Noah's Ark. You would be hard pressed to find a more eclectic cross-section of individuals gathered in one place. It's got it all, from the business folks in their fancy suits to the skaters shredding the gnar, rowdy college kids to pockets of protesters. Anchored by its hub, the park, Union Square stretches beyond its green confines into surrounding streets (14th St to 18th St, and from 5th Ave to Irving Place), which encompass a healthy blend of corporate giants and neighborhood essentials.
Getting there
Union Square is one of the biggest centers of transportation in the city so it'll be a breeze getting there. Uptown, downtown, Brooklyn, Queens - it's easy, just jump on either the 456, L, or NQR trains and you'll find yourself in Union Square in no time.
Culture
Union Square is rife with public art displays. Perhaps the most iconic pieces include Henry Kirke Brown's larger-than-life-size sculptures of a pair of US Presidents including George Washington and Abraham Lincoln. There is also the magnificent Kantilal Patel's statue of Mahatma Gandhi.
Outdoors
Union Square Park - where Broadway and Bowery Lane (now 4th Ave) meet, forming a union, hence Union Square. As mentioned previously, the park encapsulates the diversity of the city and in some way, channels itself as downtown's Times Square. The park hosts the outdoor Greenmarket four days a week, and with these markets comes art vendors, and live dance performances that truly add to Union Square's cultural significance and popular appeal. Now kick back and take it all in for yourself - just beware of the panhandlers.
Food
Blue Water Grill - the name says it all really, fish is the name of the game here at this space, formerly purposed as a bank. The preparations are simple, allowing the true taste of the fish come alive (in a dead way). Check out the Blackened Swordfish, Maine Lobster Bisque, or the East Coast Halibut. The space has several distinct personalities with each space hosting its own vibe. The front area bar is filled with young business types, the back tends to be occupied by larger groups and couples, whilst downstairs caters for all with its live, mellow jazz.
The Coffee Shop is one of Union Square's bustling corner hotspots. The Coffee Shop's fare includes Brazilian-American delicacies and considering it's open until midnight, it hosts a great late-night scene. Tip - nab a sidewalk seat for an exquisite session of people-watching whilst you chow down on a Sesame Chicken Salad or The Coffee Shop's Famous Grilled Hamburger. Amidst the great food, and people-watching, you may find yourself fawning over the great service (the staff all seem to be crafted by the Gods).
Bars
Spend an hour at this dapper lounge and you'll easily lose track of time, but what's wrong with that? Dear Irving presents a cocktail menu that thrives when it comes to house creations but doesn't neglect its tried-and-trued classics. You can't go wrong with a Gibson or a Feel No Pain, but we've got a lot of love for the The Confidant - gin, lemon, cocchi americano, nocino, egg white, lavender bitters, & perrier. Dress nicely to truly immerse yourself in the Gatsby-esque flow.
If you're looking to keep it a classy night out or maybe some after after-work drinks that are easy to enjoy, Lillie's is the place to be. The attractive decor consisting of velvet chairs, antique paintings and stained glass windows convey a sense of elegance, while still remaining grounded. The charming drink menu will cater for all tastes, but if we were pushed for one recommendation it would have to be any one of their extensive list of rare whiskeys. Literally any one of them, they're all 10/10.
Shopping
If you're the sporty type then you have to pay Paragon Sports a visit. Three floors of equipment and clothing for every activity you can think of! Need new sneaks for the gym? Tick! New paddle for your canoe? You got it! This is the one stop shop for all your sporting needs.
Shiny things are great right? They're even better when you can wear them! Check out the shimmering beads on offer at Beads of Paradise that are sourced from around the world. If you're looking to get creative then check out the introductory beading classes that are on offer every Sunday and get your bead on. Bonus - they offer jewelry repair services.
Think you could fit in in one of the most central neighborhoods in NYC? Then come along to our SpeedRoommating events in Manhattan to find your new buzzing abode!
If you're a Union Squarer and proud, let us know some of your favorite things to do in the area!
---
Now we've got your attention, how about we get to know each other a little better? We'll start, with something you probably don't know about us...
SpareRoom are proud partners with Breaking Ground – one of NYC's leading homeless charities, who provide permanent supportive housing and outreach services for those on the streets that need it most. Every month, we match the amount won in our Live Rent Free competition and donate the same to Breaking Ground. It's just one of the ways we can help give everyone the home they deserve.
Want to get involved? You already are, as long as you're entering Live Rent Free every month. Find out more here >>> Live Rent Free