Area Guide
Bushwick Guide | SpareRoom
Reading time: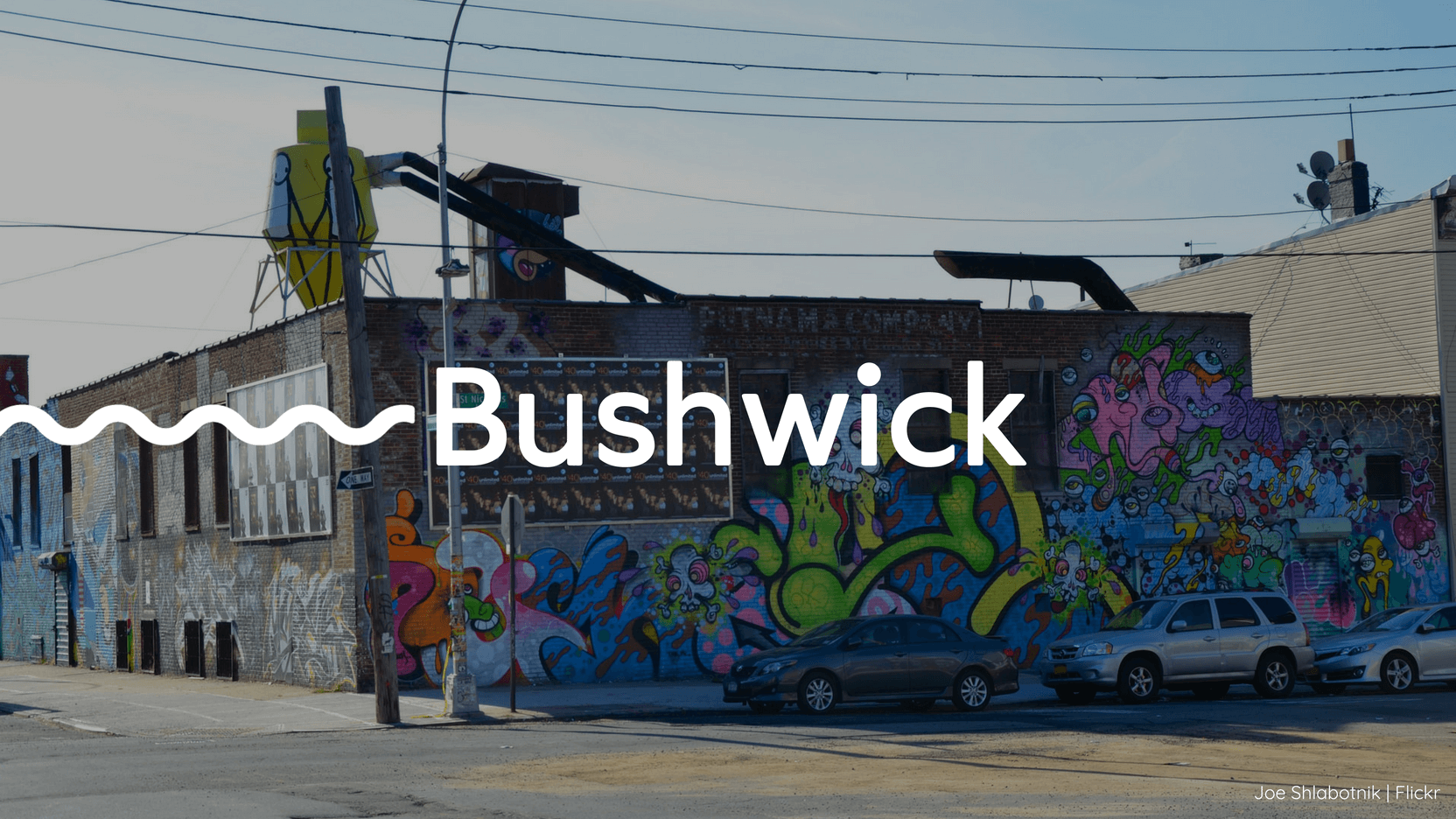 Bushwick - the new class of old-school Brooklyn. An influx of creative types has transformed Bushwick in recent years to be one of the hippest and trendiest neighborhoods in NYC. Dive bars, cafés and gallery spaces continue to bloom, fed by the gallant movers and shakers that are setting up camp in Bushwick's converted loft spaces. Although this reinvention is very much happening and ever-expanding, Bushwick has yet to part with its true core of internal grunginess, still active beneath its reconstructed shell.
Getting there
The most common form of transport when it comes to travelling to Bushwick is the subway. Catch the Brooklyn bound L or JMZ trains to find yourself in one of the coolest neighborhoods in the borough.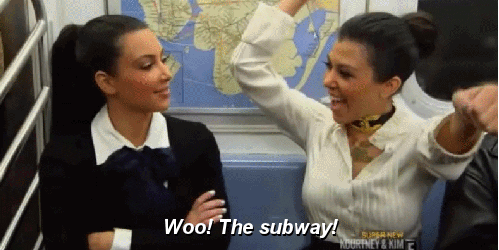 Micro-neighborhoods
Bushwick is home to a large Hispanic population (roughly 70%), with more Dominican (27.9%) and Puerto Rican (32.1%) inhabitants than nearly any neighborhood in the US. The black population comprises about 20% with the remaining 10% being white, Asian, or mixed race. As such, there are no specific micro-neighborhoods but rather a diverse and all-encompassing spread of people across the 1.305 square miles that is Bushwick.
Fun fact: Back before it was hip and happening, Bushwick was 'Boswijck' - Dutch for "little town in the woods". Its area included the modern-day communities of Bushwick, Williamsburg, and Greenpoint.
Culture
Bushwick is nothing short of culture, housing a population of creatives; so it's only natural that there's a vibrant modern day culture to go with that of the past. Artist studios and galleries are in plentiful supply but what really makes the difference here are the colorful corridors of world-renowned street art.
Buildings that once looked dilapidated and and worn down have been washed with walls of graffiti, intertwining the grime and grit with colors and designs to don beautiful masterpieces. Bushwick native Joe Ficalora deserves credit for this, with his Bushwick Collective paving the way for this new movement. This ever-expanding faction has transformed this once grim industrial neighborhood into a thing of beauty, outstripping all other neighborhoods for DIY cultural prestige.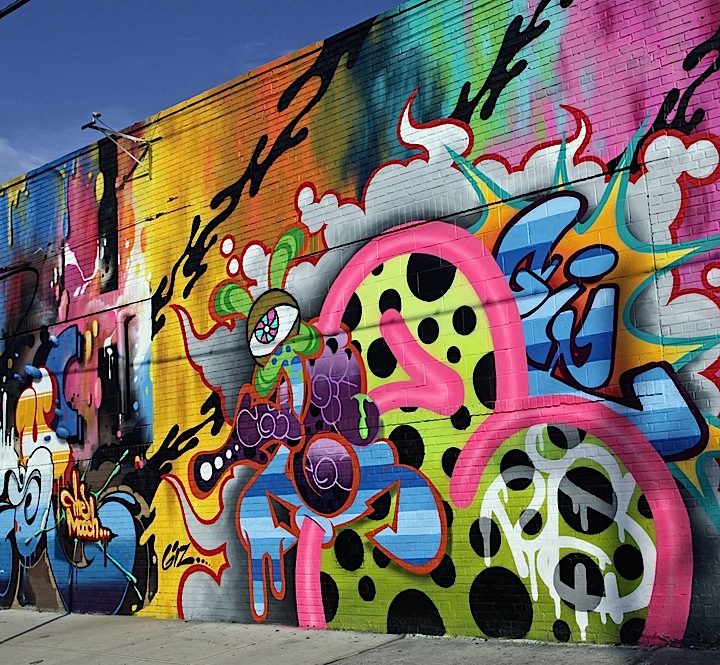 Food
When checking out Bushwick you have to get down with its food scene. Little MO on Willoughby Ave, the little brother of Little Skips, has to be on the list. The friendly Asian fusion restaurant is fast, friendly and casual, perfect for a meal when you're hanging in Bushwick. It's common that people come for the weekend pho and stay for the hip-hop. The combination of delicious food, great service and cool vibes will make you never want to leave. Heads up - the weekend pho refers to the Classic Beef Pho, only available over the weekend, hence 'weekend pho'. We suggest tucking into this and the Chicken Char Siu Banh Mi to get your taste buds in a tizzy.
Anddd that's all for food!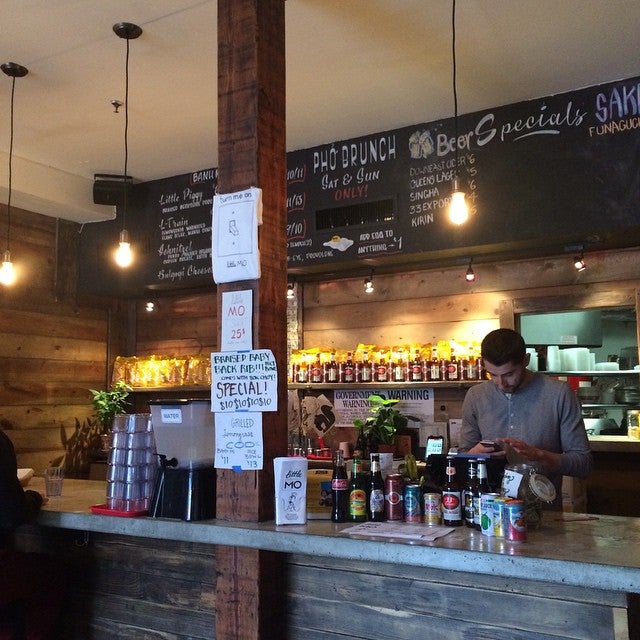 Pfffft, you really think we were going to give you food recommendations and leave Roberta's off the list? Get outta here!
This fine establishment first opened its doors in 2008 and hasn't looked back since. The space has become a revelation, with food lovers from all over coming to try a slice of the famous fare on offer. Roberta's must be praised for their artistry when it comes to the food business. All produce is homegrown; they've published a cookbook so you can recreate some of your favorite dishes at home (good luck with that); and have had a host of celebrities dine with them over the years. If you don't believe the hype around town then maybe you'll trust Beyoncé & Jay-Z? The Clintons? Jennifer Aniston? Joe Manganiello? All of which have dined at the acclaimed Moore St. spot.
Bars
With new bars opening on the regular it can be hard to keep up with the ever-changing nightlife scene but it's worth keeping track of what's happening with the locals when possible. We love checking out the latest bars on the block but for now, we're going to stick to some tried and true classics of Bushwick.
Are you a purveyor of beer? A connoisseur of sorts? If so, this is the place for you! The Sampler has 20 rotating taps to cater for all tastes. The beer is that bit sweeter thanks to its amazingly low pricing, making this the perfect place for when you want a low-key night out. The staff are well-informed and are always happy to help point you in the right direction when it comes to your choice of beer. If that low-key night starts getting hyphy you can grab some beer (The Sampler doubles as a liquor store) and take the party back home.
But maybe you're planning a crazy night and want things to get a little wild? We suggest easing yourself into that situation with a movie. At Syndicated you have a movie theatre and bar all in one! Get down early to catch some drinks before the big screen, with movies being shown everyday in the 60-seat full service, dine-in cinema. Order food and drinks from the comfort of your seat whilst enjoying a classic for $4 or a first run $7. By the end of the movie you'll be in perfect form to take on the night.
Similarly to Roberta's, we can't pass up on this venue - House of Yes. HoY deserves a special mention. We're not going to give anything away, let's just say that if you only spend one night in Bushwick, let it be here.
Shopping
Keeping in line with the creative, hipster vibe of Bushwick, it's best to check out vintage chic at incredible prices. At L Train Vintage you'll get just that, with everything you could ever want under one roof. Pick up some threads here so you can blend in amongst the new, old-fashioned vibes of the neighborhood; the locals will never suspect a thing! To ensure straight fire grails don't slide by, we suggest following them on Instagram where they post their hottest, latest one-of-a-kind pieces.
Think you could fit in in one of the coolest neighborhoods in the US? Then come along to our SpeedRoommating events in Brooklyn to find your new hipster abode.
If you're a Bushwickian? Bushwickitie? Bushwicker? Whatever. If you're from Bushwick and proud, let us know some of your favorite things to do in the area!