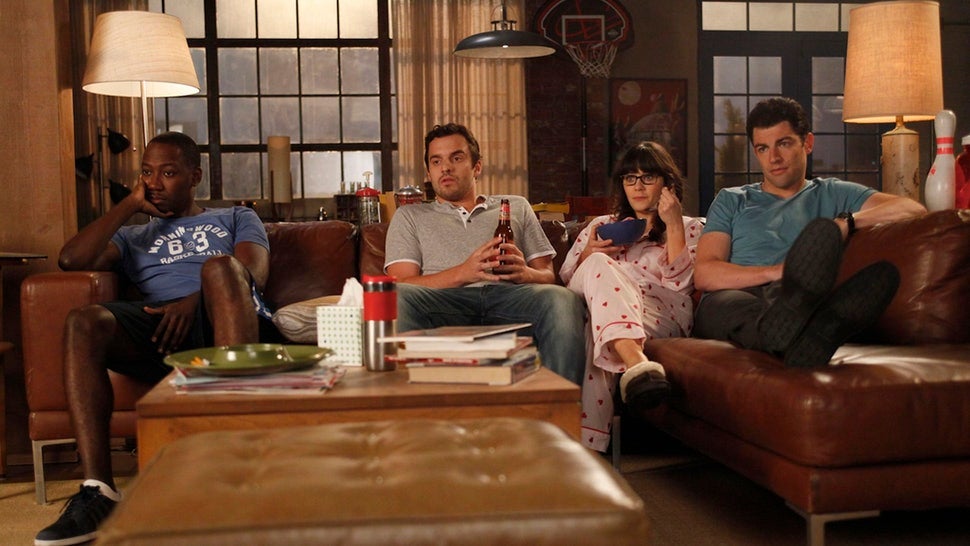 New York City isn't the only one to showcase what it's like living with roommates. From living with friends to shared financial struggles, there's a reason you can easily compare your roomies to those on your screen. So drive down the coast – or surf the web for episodes – to see these California TV roommates.
Young & Hungry (2015-2018)
Gabi and Sofia have been friends since seventh grade and live together in their cozy San Francisco apartment. Between navigating dating, careers and side hustles, this pair is relatable to anyone in their 20s trying to figure out life. Being best friends with different personalities can cause a difficult living situation, but Gabi and Sofia make it seem effortless.
Right:
Living with a friend who knows you so well can be pretty great. They're the person you can really be yourself around, eat ice cream with on bad days, and celebrate your successes with too. Gabi and Sofia show that best friends don't need to be the same to live well together. Respect and understanding help us all to get through arguments as friends and roomies.
Not quite:
As most roommate comedies fail to show, being best friends doesn't mean hanging out with them every time you're home. It's surprising Gabi and Sofia wouldn't be more tired from the grind with all the side hustles they have. And even if everyone's at home, the living room is often empty because it's normal to enjoy down time in your own room too. As mentioned in our NYC roommates blog: "it's okay to do your own thing sometimes too."
Three's Company (1977-1984)
Two roommates are nice but when it's "hers and hers, and his, three's company too." In Santa Monica when premarital co-ed living was still considered taboo, Janet, Chrissy, and Jack helped change perspectives that this gender dynamic is actually pretty innocent.
Right:
The same way men and women can be friends, they can live together platonically too. When living with the opposite sex, you'll find that stereotypes aren't always true – your female roommates might be more helpful putting together the Ikea table, while your male roommates may take the longest in the bathroom.
Not quite:
Of course the change of the times make this show's concept a little outdated in places. After all, being single and living with the opposite sex – or other identities – is less taboo nowadays. That means less scheming and more authenticity when finding the right home for you.
Big Bang Theory (2007-2019)
As they finish up their 12th and final season, the Pasadena apartment and nerd hub is home to an iconic roommate pair: Leonard and Sheldon. Not only do they show audiences the ups and downs of friendship, but also the relatable struggles in apartment shares too.
Right:
When living with another person you may end up establishing a routine with specific habits in your shared spaces — it's why, like Sheldon, you might be particular about sitting in "your spot." And while Sheldon goes a bit extreme and draws up an official contract, roommate agreements are common in a simplified form: having a group discussion about your expectations as roomies.
Not quite:
Sure, conflict might arise between roommates when someone gets a significant other, but when that someone wishes to take the next step and move in with their partner, the common issue is a new roommate moving in, not out. Sheldon eventually accepts Leonard's departure across the hall – as close roommates you'll know when it's time to let them go.
New Girl (2011-2014)
Take Three's Company, flip the gender ratio, add an extra roommate, set it in 20th century Los Angeles, and you have New Girl. Zooey Deschanel's character Jess meets her new roommates Nick, Schmidt, and Winston after answering their Craigslist ad (guess she didn't know about SpareRoom).
Right:
Like its co-ed predecessor, New Girl shows that living platonically with the opposite sex is totally possible. Sometimes your roommates can become your closest friends and in Jess's case, your best source for dating advice. However, the show also isn't wrong in showing that it's possible for friendships to develop into something romantic too.
Not quite:
Their loft apartment is the west coast version of the Friends apartment: unrealistic. True, it's a better explanation here that everyone is employed, but finding the perfect apartment with four private bedrooms and spacious shared spaces is nearly impossible – let alone affordable – in LA. But that's why television is so great.
Grace & Frankie (2016-present)
This Netflix original comedy starring Jane Fonda and Lily Tomlin offers a look into an older generation of roommates. After their husbands leave them for each other, Grace and Frankie must learn to live together in their shared San Diego beach house.
Right:
Like every roommate situation, learning to cohabit and deal with a roommate's quirks is important. Once you get to know them, you might end up becoming friends like Grace and Frankie too. And because of their age, they help each other get through similar struggles such as dating post-divorce, navigating technology, and health issues like arthritis – the inspiration for their shared business.
Not quite:
It isn't actually unrealistic for roommates to team up together to create a successful business, but it's definitely based on circumstances. Between coming up with a good idea, getting the tools to turn your product into a reality, and obtaining the finances, it's harder to accomplish than it looks. And while Grace and Frankie face ageism when asking for a loan, their wealthy background and access to other resources is an easy way to defeat that obstacle. If only the rest of us were so lucky!
---
Now we've got your attention, how about we get to know each other a little better? We'll start, with something you probably don't know about us...
SpareRoom are proud partners with Breaking Ground – one of NYC's leading homeless charities, who provide permanent supportive housing and outreach services for those on the streets that need it most. Every month, we match the amount won in our Live Rent Free competition and donate the same to Breaking Ground. It's just one of the ways we can help give everyone the home they deserve.
Want to get involved? You already are, as long as you're entering Live Rent Free every month. Find out more here >>> **Live Rent Free**