Congratulations if you've managed to resist picking up any bright Christmas themed items until after you've stuffed yourself with turkey…
Now's the time, and it's totally acceptable to get your festive on. Here are some tips to help brighten up your apartment with holiday cheer, just in time for you to enjoy Freeform's 25 days of Christmas, cozy PJs and a mug of hot coco.
Deck the doors with wreaths
Whether they're on your front door or bedroom door, wreaths will welcome guests with festive vibes. Find one at Target, hang up with command strip hooks, and find the perfect spot on your door: not too high, not too low, but just right (so your apartment number is still visible).
But if you're the artsy type and have time to spare – just make your own! There are many DIYs ranging from traditional to super creative. Want to put other holiday symbols in it? Place a cute snowman waving hello, turn your wreath into a reindeer with antlers, or throw in some things to represent Hanukkah if you celebrate that too. Turns out even Batman personalizes his wreaths...
Make the season bright
Unless you're entering the Great Christmas Light Fight or competing with your neighbors for the brightest house, you don't have to go big. Hanging Christmas lights up in small areas is all you need to make your home feel ready for the upcoming holiday, so deck out your room, windows or hang them in the hallway.
The scent of Christmas
December is full of nostalgic smells — cookies, hot chocolate, gingerbread, and pine trees included... How about filling your home with these festive scents? Here's how:
Just have these treats in your home (looking at you, master bakers…)
Buy some scented candles (if you've got $30 to spend on "Candy Cane Lane" or "Christmas Thyme").
Try a simmer-pot! It's cheap, smells great, and you can choose how you want to make it.
Simmer-pots are easy to put together with ingredients you've probably already got in your house like apples, oranges, cinnamon sticks, vanilla, etc. There are plenty of recipes that use different combinations to produce various festive fragrances. They're also a great Christmas present — place your fruits, herbs, and spices in a mason jar, slap a bow on it and gift it to your mom.
Oh Christmas Tree...
The most important item to have when celebrating Christmas is obviously the tree. Today Christmas trees come in many forms: large or small, real or plastic, inflatable or paper... Sometimes finding the right one for you and your roommates can be hard.
If your apartment is small or you plan on going home for the holidays, a Charlie Brown sized Christmas tree is ideal for making your home feel festive (without the hassle). It's the ideal spot for all your roommate gifts (hint hint), and you can still decorate it if you're careful – just choose smaller ornaments and try not to over balance…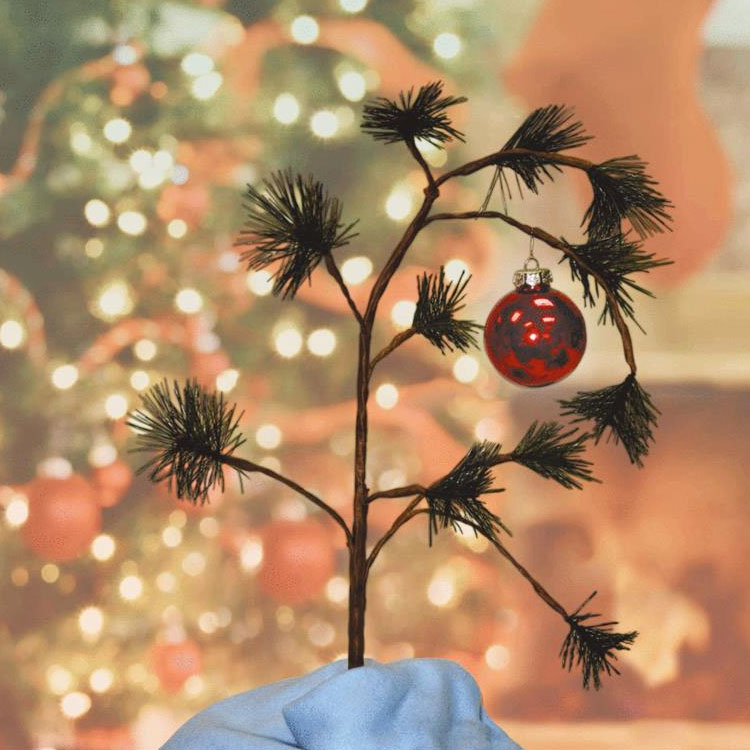 How are you decorating your apartment this holiday season? Tell us on Facebook.
---
Now we've got your attention, how about we get to know each other a little better? We'll start, with something you probably don't know about us...
SpareRoom are proud partners with Breaking Ground – one of NYC's leading homeless charities, who provide permanent supportive housing and outreach services for those on the streets that need it most. Every month, we match the amount won in our Live Rent Free competition and donate the same to Breaking Ground. It's just one of the ways we can help give everyone the home they deserve.
Want to get involved? You already are, as long as you're entering Live Rent Free every month. Find out more here >>> **Live Rent Free**