What's better than $1 rent? Free rent of course
Reading time:
If you've been a SpareRoom user for a while you'll have seen our founder Rupert's recent Housemate Hunt . After offering two rooms in his West Village loft for just $1 each per month he had over 9,000 people apply and eventually chose two roommates to join him.
Their 6 months are now up, but we're carrying on the theme by offering one lucky roommate the chance to live rent free for a whole year, thanks to our cleverly-named LiveRentFree for a year competition.
Once you've done that (or if you've entered already) we're going to give you the chance to grab yourself 15 extra entries completely free. All you have to do is watch the video below and answer three simple questions.
OK, here are the questions. Make a note of the answers as they're the codes you need to enter to get your extra entries. You get 5 entries per code.
Which band's logo is on Rupert's t-shirt? (OK, you've probably got this one already!)
Cyrus is one of Rupert's roommates - who's the other?
Which city in Vermont is Cyrus from?
OK, got your answers? Now all you need to do is enter them in the promo code box on the Live Rent Free page
So, for example, if we'd asked 'Which UK city is Rupert from?' you'd know the answer is Manchester, so that's what you'd enter in the box - like this...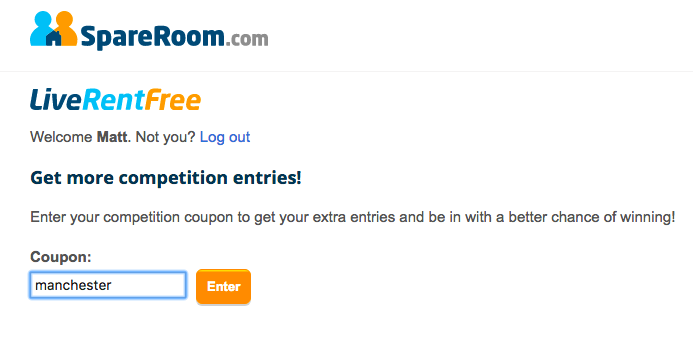 Don't worry, they're not case sensitive.
Reminder - If you haven't already entered, you'll need to do that first.