5 ways to revamp your bedroom for a better night's sleep
Reading time: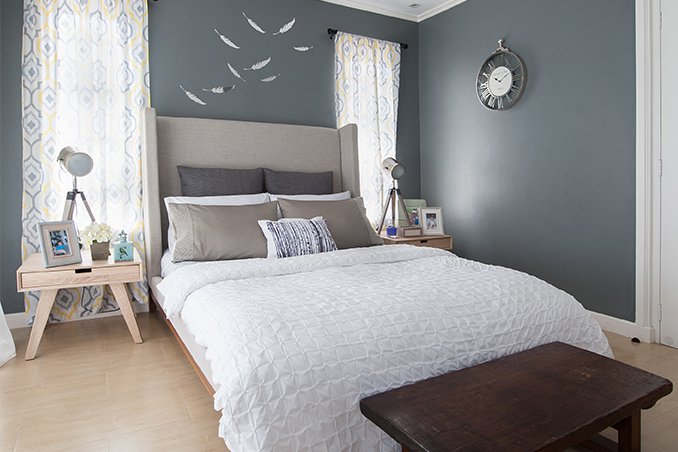 Fact: there's NOTHING worse than a bad night's sleep.
Whether it's the struggle to nod off, or the 4am awakening (and subsequent tossing and turning until your alarm rings) robbing you of your 8 hours – you don't deserve it.
Nobody should start their working day with bleary eyes and a foggy head, and nobody should dread bedtime. And we think it's high time to MAKE THIS STOP.
We all know that eliminating our post-lunch coffee, turning phones/laptops/tablets off an hour before shut-eye, and drinking herbal tea are all tried and tested methods to help induce the zzz. But did you know that your bedroom decor and setup can impact how you rest too? Read on…
1. Declutter & destress
Apologies for starting with the horrible home truth but… it's time to clean your messy chair.
Bedrooms that are full of junk can make your mind feel like it's full of junk too, as the thought of your unfinished tasks (and broken promises to clean up) will be triggered whenever you look around your bedroom. The solution? CLEAN IT UP.
You can actually make this into a semi-pleasant activity too – it's a great excuse to go home shopping and invest in LOADS of storage baskets and drawer organizers to help you max out storage if you're living in a tiny space.
Clutter out of sight = clutter out of mind. Promise we won't tell anyone about your messy drawer…
2. Soften up
If you took over a lease from someone else, chances are you night be using a mattress donated to you by your parents or friend. And we get it – tbh mattresses are really expensive.
Sleeping on what feels like a bed of nails can really kill your chance of getting 8 hours in. So don't put up with it. If you think your mattress has hit its time, then... unfortunately, it's time to start exploring alternative options.
A good mattress topper can really help you out before you have to purchase a whole new mattress – check out eBay for a bargain, or Overstock for everything from budget to luxurious memory foam.
Article Continues Below
---